Goodson Lodge
Hilperton Road
Trowbridge
BA14 7JG
United Kingdom
Get directions
A warm welcome to our home
Goodson Lodge is situated in the historic county town of Trowbridge. This purpose-built care home has been created with our residents in mind. The home provides 24-hour specialist person-centred dementia care, residential care and respite care.
Dementia Care
Residential Care
Respite Care
Vaccinated against COVID-19
There are four households at Goodson Lodge that all boast en-suite rooms finished to a very high standard. Each household has its own communal spaces, including beautifully furnished dining and lounge areas where residents can enjoy a freshly prepared meal with friends and family. In addition, the home has its own onsite hairdressers, shop, cinema and cafe located on the iconic indoor 'Street'. These all help to create a wonderful sense of community within the home. 
Goodson Lodge also benefits from a spectacularly designed landscaped garden. The home looks to utilise this outside space at every opportunity. We have raised flower beds, wide pathways and various seating areas so our residents can get involved as much or as little as they choose. 
We put our residents at the heart of everything we do and take the time to get to know every individual. This ensures we can provide the person-centred care we pride ourselves on and give choices our residents choices on all aspects of home life, from meals to our daily activity programme.  
Our key actions against Coronavirus
Testing for employees and residents means that asymptomatic cases are picked up early.
Plentiful supplies of PPE.
Vibrant, fun and socially distanced social bubble activities for all residents.
Indoor safe visitor spaces installed across the Trust.
Rigorous cleaning including the use of the latest high-tech electrostatic devices.
OSJCT is proactive in participating in the latest in research such as 'instant' Lateral Flow Tests and the Vivaldi2 antibody study.
We understand there may be a lot of questions and concerns at this time and to provide guidance to those looking to move into a care home view our admissions page.
Services & Facilities
The team
Food
Activities
Events
Pricing and Key Facts
About the team
A friendly, professionally trained team are on hand around the clock to give the support needed for all our residents.
Meet the team
Food
A talented chef and kitchen team prepare tasty, home-cooked meals. The freshly prepared, delicious dishes are carefully balanced to get the best nutritional value and cater for individual dietary requirements and preferences. Seasonal produce is chosen whenever possible and of course, relatives and friends are always welcome to join.
Each of our four households have their own personal kitchen-dining room where residents can take their meals if you wish. However, residents may eat wherever they choose and will sometimes opt to eat in their own room
We also plant fresh produce each year as part of our activities and the fruits of our labour will be used in our dishes as much as possible.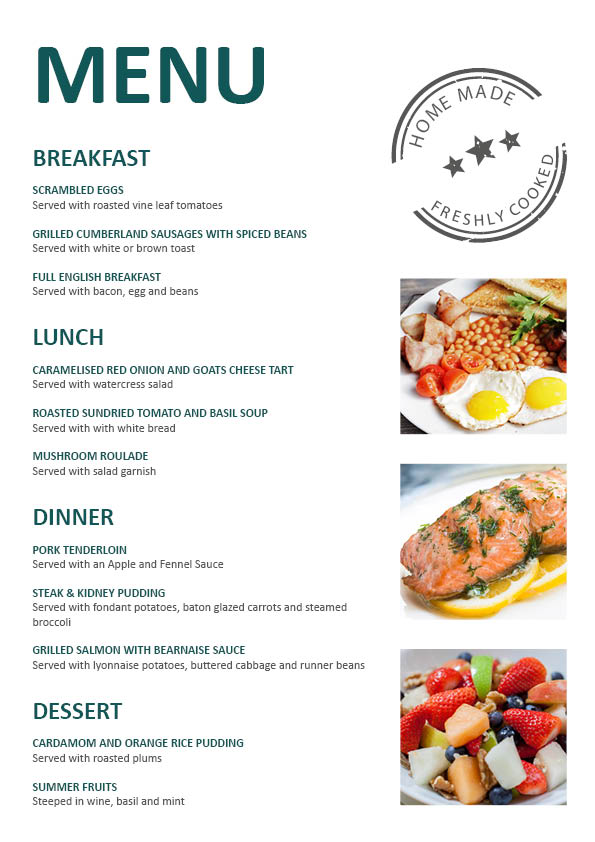 Activities
Whether it's wet or dry outside, we at OSJCT feel that activities are essential in providing the best caring environment to live in.
Hobbies don't simply stop when living with us at Goodson Lodge. We have a dedicated Activities Co-ordinator who works closely with our residents to create a programme of fulfilling activities and events, tailored around each resident's requests, hobbies and interests. The programme of events and activities provide a source of fun and laughter, to help each resident live their life to the full and make new friendships.
We are also fortunate to have the support of many volunteers of all ages from the local community, strengthening our links to this thriving market town. Here is a sample of activities on offer:
Trips to garden centres, cafés, pubs, sporting events, National Trust parks, wildlife parks, aquariums and museums.
Visit from Pets as Therapy Dogs
Exercise and wellness activities, for example Seated Yoga, Zumba
Fun activities with 'Messy Miniatures', the local toddler group
Board game competitions and quizzes
Music therapy sessions
Gardening
Arts and crafts
Communal Church services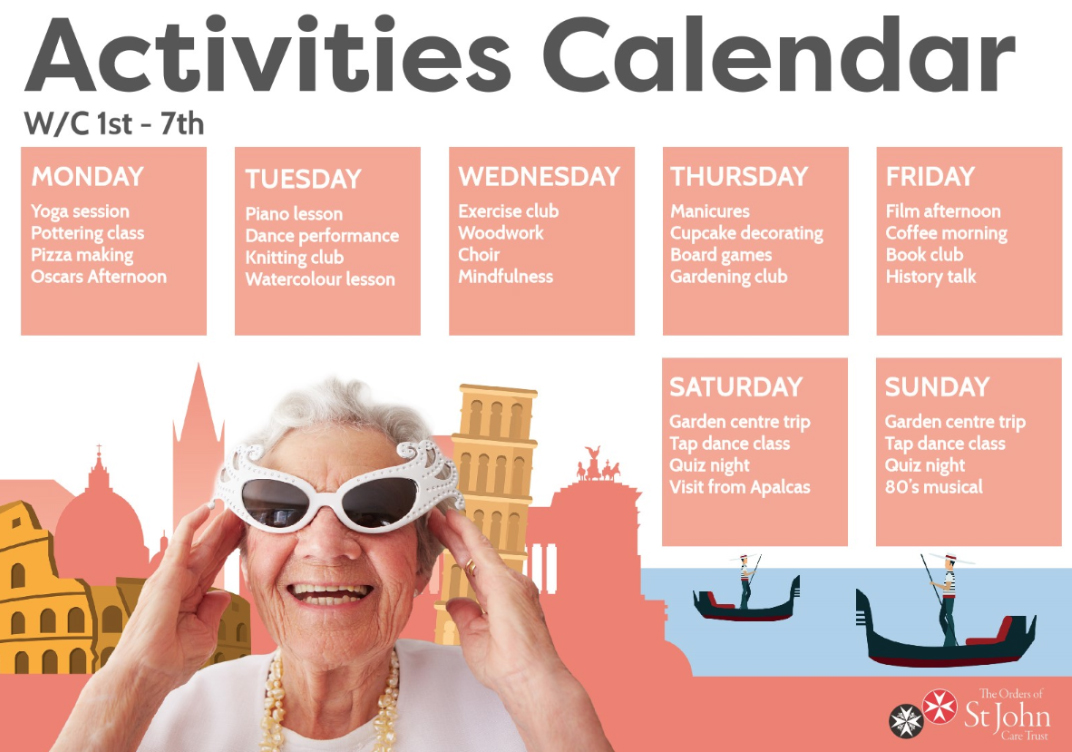 Download sample activities schedule
With so many well-being activities for body and mind on offer, we also recognise that everyone needs some personal space for relaxation and mindfulness for personal reflection. The cosy lounges offer an opportunity for some quiet time or to host family and friends.
And that's not all:
We've had silent discos, hoe downs, Chinese banquets, Oscar parties and so much more.
Many of the activities feature Reminiscence Therapy to aid those living with Dementia to remember events, people and places using sight, touch, taste, smell and sound.
Events
Located in the heart of Trowbridge, and within a vibrant community, there's never a dull moment. We run regular activities for all to join in:
Coffee mornings
Care Home Open Day
Summer and Autumn fetes
Blue Friday Breakfast for Emergency Service workers and Health Care Professionals
Singing club
Gardening club
Halloween party
Gent's evening
Christmas parties
View our full events calendar to see more upcoming events taking place at Goodson Lodge.
Pricing
Care fees vary depending on the level of care required and this will be confirmed upon completion of a care assessment prior to moving into the home.
Below is indicative pricing for self-funded residents per week.
| Care Type | Fees From | Fees To |
| --- | --- | --- |
| Dementia Long Term | £1385 | £1490 |
| Dementia Respite | £1525 | £1640 |
| Residential Long Term | £1335 | £1385 |
| Residential Respite | £1430 | £1520 |
Our home charges self-funder rates for the services we provide. We accept third party top ups for individuals funded by the Local Authority up to the self-funder rate.
We understand that paying for long-term care can often be a complex subject, and with several options available to you it can be confusing. You will find helpful guidance on our Paying for Care page. 
Key Facts
The Key Facts document contains information regarding this care home which can be used in comparison with other care homes or can be printed for reference and brought with you when you visit the home.
Meet the team
Our homes' professional services are provided by the Management team, Carers, Nurses and Dementia support teams (where required), Admiral Nurses, Support Workers, Activities Co-ordinators, Housekeeping, Handy Person, Administrators and the home's Chef and Catering team. We also have health professional support from Doctors, Nurses and personal services who will regularly come into the home.

Mandy Palfrey
Hannah Mason
Tim Wright
Phil Hailes
Georgina Dyer
Home Manager
Amanda has over 25 years' experience in Health and Social Care and came to Goodson recently from another OSJCT home where she was also Home Manager. Having worked for various companies including the private sector, Amanda has worked her way up within her role from a Carer to a registered Manager.
Amanda started her career working nights in a nursing home, which she did for 8 years and thoroughly enjoyed. Amanda then started to work as a Carer on days and this is when she really started to blossom in her role as a leader.
Amanda joined The Orders of St John Care Trust in 2008, she soon became a Care Leader, Head of Care, then a registered Manager in 2014. During this time Amanda has completed various Health and Social Care Qualifications and completed Level 5 in Leadership and Management for Health and Social Care before taking on the Registered Manager's role.
Amanda sets high standards within her team, she encourages her team to learn new skills and knowledge, which also helps them to succeed, but more importantly to provide excellent care. This was demonstrated when she won 'Leader of the Year' award in 2018.
Deputy Manager
Deputy Manager Hannah Mason has worked in the care sector for 11 years. Initially, she started her career as a Carer and her potential was quickly recognised as after only two years Hannah gained the position of Senior Carer. Hannah held the position of Senior Carer within several home care companies for the next 9 years. During this time Hannah went to college part-time to gain her Level 3 National Diploma in Health and Social Care, before advancing to complete her Level 5 in Leadership and Management of Health and Social Care Services in 2017.
What Hannah loves most about her job is making a difference to peoples lives and forming meaningful relationships with residents, health care professionals and colleagues. Hannah makes a point of ensuring that she has experience in all shifts so that she can fully understand the needs and challenges faced by her team.
Hannah takes a particular interest in dementia having gained specific qualifications in the topic, "It's all about butterfly moments", Hannah said. "A small moment of connection with a resident with dementia can last the whole day and ensure that the person feels cared for, appreciated and valued. I love passing my knowledge onto my colleagues and helping them become more confident in supporting people with dementia. I am excited to be part of Goodson Lodge and am I am looking forward to the journey ahead".
Hannah aspires to one day become a Registered Manager to run her own home. "It's the ultimate for me" says Hannah, "I would love to one day have that opportunity but for now I am happy to be working with Annette and am looking forward to learning all I can from her experience".
Sales Executive
Tim has worked in a customer relations and sales function for much of his career. He holds a Masters Degree and is able to relate to both residents and families. He enjoys being part of a team that makes the transition from a home to care home environment as comfortable as possible. Tim enjoys welcoming residents and families to Goodson Lodge.
Handyman
Phil ensures that Goodson Lodge is well maintained and all repairs are carried out within the home. He makes sure that all audits are carried out and are up to date and that the required standards and procedures are followed. Phil has qualifications in Handcrafted Furniture. He enjoys the variety of his job and working with our friendly residents and staff.
Chef
Georgina is our Chef and has worked in catering for nearly 30 years. Georgina has City & Guilds qualifications in Catering and has Level 3 qualifications in Food Safety and Health & Hygiene.

When a resident moves into Goodson, Georgina works with them to identify their favourite foods and meals so the kitchen team can cater for these. Georgina takes pride in her work and really enjoys making afternoon tea and special occasion cakes. She says the meals the residents have are not only nutritionally good for them but are also made with love and care.