Clare shares her experience of joining as an OSJCT volunteer during a pandemic.
Do Good. Feel Good. Join us as a volunteer today.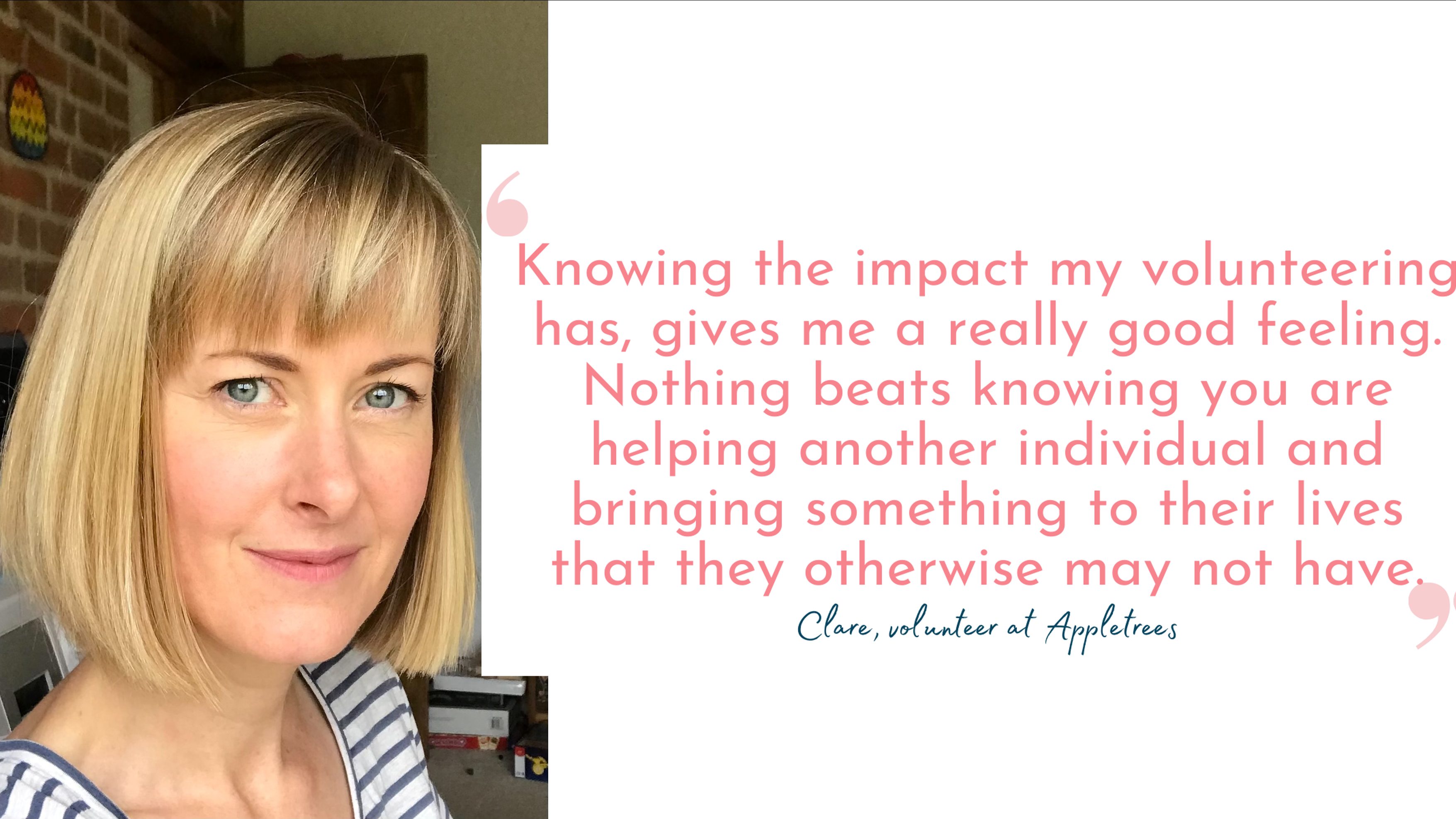 OSJCT volunteers have played an important role throughout the pandemic, supporting our teams to make life as enjoyable and normal as we can for our residents. We were lucky enough to welcome lots of new volunteers over this period, those that saw the need reported in the press and joined because they wanted to make a difference to the people living in their community. And they did. They made a huge difference to our residents.
Clare joined as a volunteer just after the first lockdown. She tells us why volunteering in a care home is even better than she'd imagined it would be, and why she thinks others should join her and volunteer some of their time each week.
Clare said: "During the first lockdown I felt a need to help my local community in some way.  Originally, I hoped to visit elderly residents in my local village and help with housework, shopping, and other tasks. However, I soon found the villagers already had this covered. So, I decided to search a further afield and see if care home residents needed any extra help.  Now I volunteer one morning each week, or a bit longer if I can. 
"Having never stepped inside a care home until becoming a volunteer, I admit that I imagined them to be quite depressing places. I realised on my first day of volunteering that this couldn't be further from the truth. There is a lot of fun and warmth in the home and the staff clearly care deeply for the residents and make attachments and relationships of their own. There is such a sense of fun in the home that you are always only a few minutes away from a good laugh. Older people are only failed by their bodies. They still want to have fun, feel loved and be cared for. In this respect we are all the same, they just need the fun and care to be brought to them.
"My role is to spend time with any resident who wants company. It may be just sitting and talking, strolling around the garden, listening, crafting, reading the paper or sometimes just sitting in silence and helping them work through a particular emotion. I really love turning a frown upside down! When a resident is feeling a little sombre, I take time to find out where they are emotionally and then through talking over a few cups of tea and sometimes playing music, I bring them to a much happier place before I leave them for the day. That's always a rewarding experience.
"The home where I volunteer is a dementia specialist service, so it is quite often the case that I am not remembered by the residents from one week to the next. When a friendship is made therefore, it is EXTRA special. The first time I was recognised by a resident was pretty momentous for me. I'd been visiting for months and would always introduce myself to every resident at each visit but one week a particular lady said, "yes I know you, you visit me quite often" and my heart filled. I was so happy. I just wasn't expecting to be remembered or recognised and it took me by surprise. Moreover, gave me validation that my visits meant something to someone.
"Volunteers complement the work of the staff, we're able to add that little extra! All our time is geared towards the social needs of the residents, being a companion to them and lifting their spirits. We come in to have fun! It is therefore highly valuable time and means the world to those who live there. 
"For anyone feeling a bit apprehensive about volunteering in a care home, let me reassure you. I started my volunteering during Covid-19, and it was a 100% positive experience for me. Yes, there are a few hoops to jump through at the moment in relation to regular Covid-19 testing and wearing PPE, but it really is such a minor detail in the bigger picture of what we as volunteers are bringing to the residents in the homes. I've been at the home for almost a year now, wearing a mask, and it is funny to me that none of the staff there knows what I look like, nor I them!"
If Clare's story has inspired you to get involved, we are sure to have a role to suit your interests and flexible enough to fit with the time you want to give.   Apply online today or email volunteer@osjct.co.uk to find our more.