Oxfordshire Extra Care Housing Managers, Paula and Kayleigh, awarded prestigious medals for services to the care sector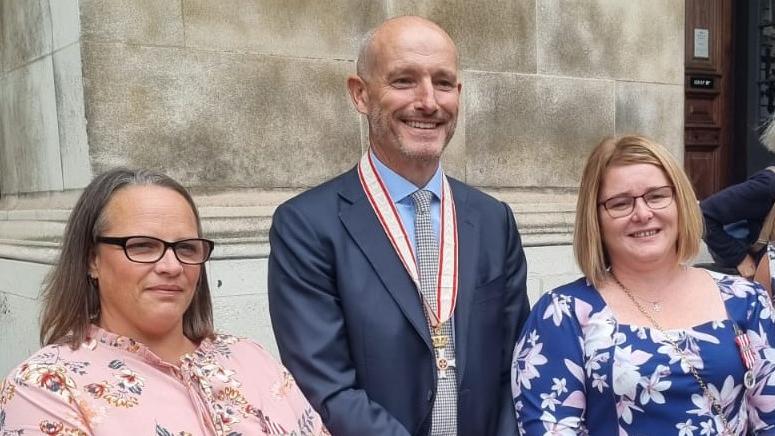 Paula Temple and Kayleigh Cross have been awarded Covid-19 Campaign medals by the British Association of The Order of Malta (BASMOM) in recognition of their exceptional service to the field of social care. The Order of Malta is one of OSJCT's two sponsoring orders.
Paula is a Domiciliary Care Manager at Shotover View and Isis Court ECH and has worked for OSJCT for nine years. She said:
"It was an honour to receive the Covid-19 Campaign Medal. It is a testimony to my deputy managers and employees in both my schemes who have been on the journey though the pandemic with me. We have all been on the front-line delivering care to clients who had Covid and worked additional hours to cover periods of employee absence. The Trust supplied us with the tools we needed to manage the schemes safely and compliantly.
"I had an amazing day taking part in the ceremony where we received our medals, it was a beautiful setting."
Kayleigh is an Area Operations Manager overseeing all extra care housing schemes and has worked for OSJCT for seven years. She said:
"It was an absolute honour to receive this award after what has been the toughest two years of my career. The day was memorable, and it was magical to be recognised for my hard work, however I have not achieved this alone. The past two years have shown me how resilient my teams are and how dedicated we have all been. I was very touched by the day and to be part the ceremony celebrating St Johns day and heritage of the Orders of Malta. I was amongst some very special people."
BASMOM medals are awarded annually a special ceremony held at The Brompton Oratory, London, on 24 June, St John's Day. This year 51 OSJCT employees and volunteers were awarded medals including OSJCT Chief Executive Dan Hayes who was awarded a Commander of Merit.