Windsor Street Care Centre
Windsor Street
Cheltenham
GL52 2DG
United Kingdom
Get directions
A warm welcome to our home
Located on an attractive residential road in north Cheltenham, Windsor Street Care Centre is a welcoming home that offers individualised residential, dementia, nursing and respite care for up to 81 residents.
Dementia Care
Nursing Care
Residential Care
Respite Care
Our home is a sociable place and there is always something going on. Our dedicated team runs daily activities in the home, such as flower arranging or a musician coming to perform for us, as well as day trips and outings to suit the residents. 
This includes shopping trips or exchanging books at the local library, through to going to the theatre or the seaside, and much more besides. We support our residents to live the lives they choose. Visitors are always welcome and we love to get to know our residents' family and friends, too.
This delightful home is split into five households, each with a specialist focus, to ensure that residents enjoy more of a home-from-home experience. Within each household there is an individual care team, a sitting room and dining room, so that each has its own personality. 
In addition, there are communal balcony areas where residents can sit and enjoy the views of the gardens below.
Individual rooms are tastefully and decorated with luxury fittings and furnishings. All rooms also have ensuite facilities, remote controlled colour television, and a state-of-the-art nurse call system. 
Their bedroom is a personal haven for each resident and we encourage them to make it their own; bring cherished paintings and photographs, cushions, other personal belongings – anything that will make it feel familiar and like home. 
We can accommodate residents wishing to bring their own furniture, too, just speak to our team when you visit.
Alongside the first-class care we provide, it's our wealth of facilities and activities that really stand out. The purpose-built home environment has been specifically designed to support the needs of older people and those with dementia, from aiding memory in day-to-day living and reminiscence therapy, to reinforcing personal identity and navigating the home.
We are extremely proud to have our very own Admiral Nurses, specialist nurses who benefit from ongoing development by Dementia UK. They offer life-changing emotional and practical support, expert knowledge and understanding in this condition. 
In addition, our Admiral Nurses are able to help families with advice, and run support groups for local communities with suggestions of how to support their loved one in this life stage. 
We also offer respite stays at Windsor Street, where we can care for someone during a shorter period. This might be for a holiday, convalescence after a spell in hospital, or for any other reason that means a change in normal routine.
Outside, the gardens are beautiful! Residents love to spend time outdoors surrounded by the gorgeous colours and delicious scents of the flowers and plants. There is a patio area, perfect for enjoying a glass of wine with friends in the summer, and lots of accessible space for activities to take place throughout the year.
 Our more green-fingered residents have opportunity to get involved in the gardening and potting of plants. Windsor Street's grounds were the runner-up in our 2023 Trust in Bloom competition judging the gardens across the sixty homes in our estate.
The sunny garden is protected from the wind and has been designed to ensure residents can enjoy maintaining the space as much we do. We hold barbeques and parties throughout the summer months and enjoy firework evenings and winter festivities too. 
Services & Facilities
The team
Food
Activities
Events
Pricing and Key Facts
About the team
Our friendly, professionally trained team are on hand around the clock to support our residents, ensuring they spend their day how they wish and enabling them to enjoy a fulfilling and independent lifestyle.
The attentive care team focus on the individual needs of the residents, with a tailored care plan for each person. Their aim is to improve the quality of life for our residents by creating lovely, comfortable, homely surroundings and by providing care, activities and other services designed around each resident's needs and wishes.
Meet the team
Food
The talented chef and kitchen team prepare tasty, home-cooked meals on site daily from our own kitchens. We source quality produce for our excellent breakfast, lunch and dinner menus. All-day dining is available for lighter meals and snacks and all dishes are carefully balanced to get the best nutritional value and cater for individual dietary requirements and preferences.
Seasonal produce is chosen whenever possible and of course, relatives and friends are always welcome to join us. The menus change daily and the kettle is always on. Our chef bakes every day so there is always a fresh cake for residents, friends and family to enjoy.
Each of the households has their own small kitchen dining room where residents can take their meals if they wish. Residents are also encouraged to help prepare their own food and to make snacks whenever they choose.
Activities
Whether it's wet or dry outside, we at OSJCT feel that activities are essential in providing the best caring environment to live in.
Hobbies don't simply stop when living with us at Windsor Street. We have two dedicated Activities Co-ordinators who works closely with our residents to create a programme of fulfilling activities and events, tailored around each resident's requests, hobbies and interests. The programme of events and activities provide a source of fun and laughter, to help each resident live their life to the full and make new friendships.
We are also fortunate to have the support of many volunteers of all ages from the local community, strengthening our links to this thriving town. Here is a sample of activities on offer:
Trips to garden centres, cafés, pubs, sporting events, National Trust parks, wildlife parks, aquariums and museums.
Visits from Pets as Therapy Dogs
Exercise and wellness activities, for example Seated Yoga, Zumba
Fun activities with the local toddler and nursery group's
Board game competitions and quizzes
Race days
Music therapy sessions
Gardening
Arts and crafts
Communal Church services
Download sample activities schedule
With so many well-being activities for body and mind on offer, we also recognise that everyone needs some personal space for relaxation and mindfulness for personal reflection. The cosy lounges offer an opportunity for some quiet time or to host family and friends.
And that's not all:
We've had silent discos, hoe downs, Chinese banquets, Oscar parties and so much more.
Many of the activities feature Reminiscence Therapy to aid those living with Dementia to remember events, people and places using sight, touch, taste, smell and sound.
Events
Our location is within a vibrant community, meaning there's never a dull moment. We run regular activities for all to join in:
Coffee mornings
Care Home Open Day
Summer and Autumn fetes
Christmas parties
View our full events calendar to see more upcoming events taking place at Windsor Street Care Centre.
Pricing
Care fees vary depending on the level of care required and this will be confirmed upon completion of a care assessment prior to moving into the home.
Below is indicative pricing for self-funded residents per week.
| 0 | Care Type | Fees From | Fees To |
| --- | --- | --- | --- |
| £1 | Dementia Long Term | £1595 | £1695 |
| £2 | Dementia Respite | £1790 | £1910 |
| £3 | Nursing Long Term | £1855 | £1855 |
| £4 | Nursing Respite | £2040 | £2040 |
| £5 | Residential Long Term | £1495 | £1595 |
| £6 | Residential Respite | £1675 | £1795 |
Our home charges self-funder rates for the services we provide. We accept third party top ups for individuals funded by the Local Authority up to the self-funder rate.
We understand that paying for long-term care can often be a complex subject, and with several options available to you it can be confusing. You will find helpful guidance on our Paying for Care page.
Key Facts
The Key Facts document contains information regarding this care home which can be used in comparison with other care homes or can be printed for reference and brought with you when you visit the home.
Meet the team
Our homes' professional services are provided by the Management team, Carers, Nurses and Dementia support teams (where required), Admiral Nurses, Support Workers, Activities Co-ordinators, Housekeeping, Handy Person, Administrators and the home's Chef and Catering team. We also have health professional support from Doctors, Nurses and personal services who will regularly come into the home.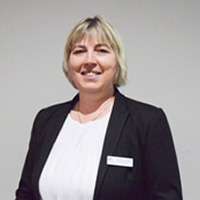 Marzanna Urbaniak
Sarah Howse
Home Manager
Marzanna Urbaniak joined the Trust 4 years ago and has over 24 years of nursing experience. Having worked as care leader, nurse and deputy manager in 2019 she became the home manager of Windsor Street Care Centre.
Marzanna has been with Winsdor Street for two years and has fantastic relationships with colleagues, relatives and their families.
Marzanna prides her herself on being committed to care, enabling all to have fulfilling lives.
Deputy Home Manager
Sarah has been with the Trust since the end of 2010. She began as a carer in Stow-on-the-Wold, and also in Jubilee Lodge in Bourton on the Water. Sarah moved to Cheltenham and transferred to Windsor Street in 2013, where she was promoted to Night Care Leader. In 2018, Sarah was seconded to The Lakes, and came back to Windsor Street, as Head of Demetia Care. She was promoted again in February 2019, becoming Acting Deputy Manager, a position which was soon made permanent.
Sarah has completed the Health and Social Care levels 2 and 3, Dementia Level 3 and just completed her Level 5 qualification.
Sarah enjoys the challenge of ensuring our residents live their life as if they were at home, with dignity and respect, and fulfilling their wishes.
Out of work, Sarah has a young grandson who is her world, so she spends her free time with him, going on trips to the seaside and other places of interest to him.
Windsor Street Care Centre