OSJCT Moments
With so many precious moments happening in and around our homes each day, what better way to document it than in a weekly, bite-size story that can be shared with and enjoyed by everyone. Here are some of the inspired moments of joy our residents, teams and communities have been appreciating recently.
Bank holiday beach experience at Henry Cornish
Residents at Henry Cornish Care Centre in Chipping Norton were delighted when their home's garden was turned into an interactive sensory beach experience for the day. Read more...
Trust in Bloom at Edwardstow Court
Edwardstow Court were the finalists in two categories, Best Rear Garden and Best Front Garden. Residents, the team, and volunteers have worked tirelessly over the last few months to get ready for the competition and ensure the gardens are looking beautiful.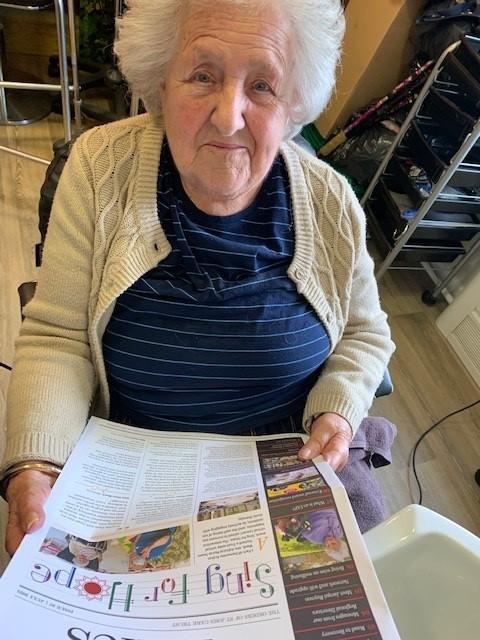 We made it to The Trust Times!
Maisie at Whitefriars was delighted to have a photo of herself with Donna, the Activities Co-ordinator on the front page of our Newspaper. Maisie is saving a copy to show all her friends and family when they come to visit her.
Strawberry picking
Ashwood Care Centre resident, Joan Foster with Activities Co-ordinator, Natalie Fletcher, did a little bit of food tasting from the garden. Joan said: "When I was a little girl, we use to call it, scrumping" which Natalie replied: "Let's call it food tasting, it sounds better!". As far as I am aware, Joan has just eaten the first of the crop of strawberries that we are hoping to come our way this summer. Don't worry we did wash them first.
Doll donations bring joy to residents
After carers from Chilterns Court Care Centre appealed on a local Facebook recycling group, the home was delighted to receive donations of dolls for use by residents at the home who are living with dementia. Read more...
Chilterns Court swap skills with local school children
Residents at Chilterns Court Care Centre and children at Valley Road Primary School, both in Henley-on-Thames, have been getting to know each other via videos to share some of their skills and interests for the other generation to learn. Read more...